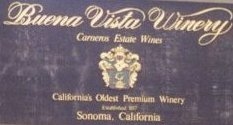 Welcome to California's oldest winery,established in Sonoma county, 1957. Below are some of the better pictures i got of Buena Vista Winery. If you can get their wines, I would highly suggest the 1995 Cabernet Sauvignon (which is almost all gone-no more at the winery, look for it on grocer/liqour store shelves). Also, the 1996 Cab, and 1997 Chardonnay, which has received a very favorable rating. If i remember it was around 90pts for the Chardonnay. Enjoy the pictures, and feel free to email me with any questions you have.
---
| | |
| --- | --- |
| | Every body is getting ready for harvest. Most wineries use migrant workers to help harvest. |
| | |

Here is the winery itself.