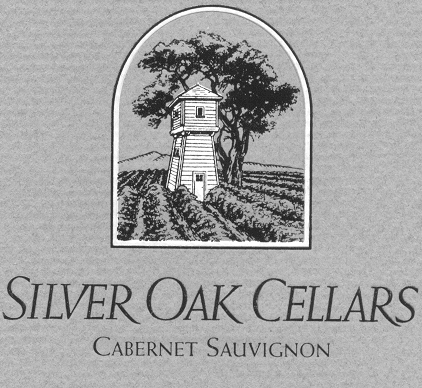 Silver Oak Cellars only produces Cabernet Sauvignon wine. They usually blend Cabernet Franc, and a bit of Merlot I believe with the Cabernet. They currently only have two varieties, the Napa Valley and Alexander Valley Cabernet. The Napa is usually a little more tannic, bolder taste to it than the Alexander. Most people prefer the Alexander. The reason this winery only makes one wine is that the winemaker, Justin, hasn't yet made the perfect wine. He says when they do, then it's time to try another varietal. Hope you enjoy the pictures.




This is the drive into Silver Oak, note the water tower, a little off center to the right.

Here is the front door. My fiance' is the cute redhead.

Here are some Cabernet Franc Vines. These are right across from the front door.

This is the bottling/labeling line. Notice all the stacked cases of wine bottles(top right). Silver Oak only produces around 15K cases per year.
A very small production for Napa Valley.
Below is the Silver Oak Cellars Philosophy statement, as done by Justin Meyer and are his ideas and words.
"To make exceptional Cabernets was my winemaker's dream. When Ray Duncan and I started Silver Oak Cellars in 1972 my dream began to materialize. Now, after twenty five exhilerating ears, I still get excited every time crush rolls around. Over the years we have made many outstanding wines of which i am very proud, but I always remind myself that we have yet to make the perfect Cabernet. The challenge is always out there waiting for the next vintage.
From the start, we have dedicated ourselves to Cabernet. Our wines are produced each year in a time honored fashion regardless of vintage or appelation. Our grapes are selected from meticulously farmed vineyards in the Alexander and Napa Valleys. Both Cabernets are aged for up to thirty months in American oak barrels, and then cellared for another twelve to eighteen months, in order to develop the bouquet that comes from lengthy bottle age. Our extensive aging program, along with a great deal of patience, hard work and winemaking expertise, are responsible for the well developed bouquet, complexity and finesse that is Silver Oak's trademark. Experience the finesse and elegance that is Silver Oak. The wines are our pride and your pleasure."

---

Now for a little history of the winery, and some description of the Alexander Valley Cabernet. All information is quoted from information provided at Silver Oak.

"All our first wines, from 1972 thru 1978, were from the Alexander Valley. This was the location of our first vineyards. Because these wines have been so consistently delightful, our Alexander Valley Cabernet has become the standard for our finesse-style Cabernet Sauvignons. The interplay of soil and climate in this region produces exquisite wines year after year with only slight vintage variation. The character of our Alexnader Valley Cabernet Suavignon is exemplified by its softness and drinkability upon release, with more subtle complexity as it matures in the bottle for an additional five to ten years. the velvety smooth, lush, mouth filling wine sfrom the Alexander Valley are easily distinguished from our bolder, more agressive Napa Valley Cabernets.
In the fall of 1992 we purchased an existing winery in the Alexander Valley north of Geyserville. We pricess the grapes from our 200 acres of AV vineyards in this state-of-the-art facility. The modified cellar now holds the 4,600 American oak barrels we need for our extensive aging program. The airy tasting room and lovely courtyard invite our visitors to relax and enjoy the leisurely pace of Sonoma County, complemented by our great Alexander Valley Cabernets."

---

Here are the notes for Napa Valley, as prepared by Silver Oak Cellars. This is the winery I visited.

"Our Napa Valley Cabernet, first produced in 1979, was offered to give Silver Oak drinkers a choice. Napa Valley's volcanic soils and climatic conditions are quite different from those of the Alexander Valley. The vines typically produce less tonnage per acre with more intense flavors. Thse viticultural diferences combine with our choice to use new oak barrels for each vintage, to produce a Cabernet which is distinctly different yet decidedly Silver Oak. These wines tend to be more austere and closed-in with harder tannins at release time. The initial austerity softens and rounds out with age and contributes to long range aging potential.
Our Napa Valley winery was established in 1972 and is located in Oakville on the site of the old Oakville Dairy. the dairy buildings served as our first aging cellars and are still in use today. In 1982, a 2,500 barrel cellar, hospitality room, and office were added. A new crushing, fermenting, and bottling building was completed in 1987. Visitors to both wineries will find a warm reception and the special opportunity to purchase oler vintages and large bottles."

---
Finally, a few quotes.

"The first obligation of every wine is to be red"
--- Justin Meyer

"People are like wine... age sours the bad and improves the good"
--- anonymous

"God in his goodness sent the grape to cheer both great and small. Little fools will drink to much and great fools none at all"
---anonymous

"Life is a Cabernet!"
--- The Silver Oak Pledge